Our Pilates Studio In Golden Grove Is Located In The Grove Shopping Centre For Convenient and Centralized Access…
Our brand new, state of the art Pilates studio in Golden Grove aims to be the best Pilates studio in the Outer North-Eastern suburbs of Adelaide. Cadence Pilates at The Grove has been custom built so that your daily Pilates experience is second to none. You deserve an environment that's fully conducive to your future as a healthy and motivated Cadence Pilates member. We can't wait for you to join our amazing and growing community!
TIMETABLE FOR CADENCE PILATES THE GROVE:
Our Pilates Studio in Golden Grove is privileged to be part of an incredible centre featuring wonderful family businesses including Tony and Mark's, Cafe Zitto, Village Physiotherapy and many others as well as becoming part of the thriving centre with new food courts, cafes, retail stores, playgrounds and all the centre has to offer.
Bringing Joy To The Community In Golden Grove Through Our First Class Pilates Studio Experience. Come Join Us And Get Activated!
Golden Grove is the hidden gem of the Outer North-Eastern Suburbs of Adelaide, so it makes perfect sense for our Cadence Pilates studios to expand to this established and vibrant community. Our team at Cadence Pilates is passionate about seeing people's lives transformed by the power behind a strong community that's pursuing balanced and healthy living through Pilates. Our Pilates studio in Golden Grove has been custom built to make sure that our vision for our members to reach the fullness of their health and wellness potential is realized on a daily basis. Whether you're looking to strengthen your core, create more tone and definition or strengthen your entire body, we've got the perfect Pilates classes ready for you to get started.
Cadence Pilates at The Grove is the third of our locations for our Pilates studios in Adelaide. Each Pilates class has been specifically tailored to our individual members' needs and packaged together for maximum results. Come and join our Pilates classes, our professional Pilates instructors will help you find the perfect solution for your personal goals and on top of that, you'll get to be a part of our amazing community of members at Cadence Pilates in Golden Grove, Adelaide.

Are You Wondering Where Exactly You Can Find Us? Look No Further!
Cadence Pilates at The Grove is a stand-alone, state of the art Pilates studio conveniently located in Golden Grove's easy to access shopping complex. Our Pilates studio is conveniently located in the Outer North-Eastern Suburbs of Adelaide and is right next door to Pedare Christian College, Fasta Pasta, The Village Hotel and Golden Grove Recreation Centre.
Where The Magic Happens:
Shop 37A, The Grove Shopping Centre, The Golden Way, Golden Grove SA 5125, Australia
Phone Number:
Opening Hours:
Mon-Fri:
5AM – 8PM
Sat & Sun
7:30AM – 12:30PM

Our Pilates Studio At The Grove Is Bringing The Highest Quality Reformer Pilates Classes To Golden Grove For The First Time.
BRINGING PILATES TO AN EXPANDING HUB
Golden Grove is a popular hub of Northern Adelaide. Our customised Pilates studio and classes are facilitated by passionate, experienced staff who will Bring Joy through Pilates at The Grove.
EVERYTHING NEEDED FOR YOUR PILATES CLASS
Our Pilates studio includes a shower, toilet and change rooms, plus chilled and sparkling water on tap to refill your drink bottle before, during or after your Pilates class. See our classes HERE.
GET ACTIVATED IN A THRIVING COMMUNITY
Cadence Pilates in Golden Grove is the perfect place to achieve your health and wellness goals. Join our growing community and experience your life-changing transformation with Cadence Pilates.
Reformer Pilates Classes For Specific Exercise Goals.
Cadence Pilates reformer Pilates classes are aimed at achieving specific exercise goals, built on a science-driven model based on the biomechanics of the human body and the necessity to promote warm up and cool down. If you're looking for Pilates classes that are specifically tailored for a variety of different goals, look no further. Our Certified Pilates instructors are passionate about making sure that each of our Cadence Pilates members receive the right guidance and support. Our brand new, state of the art Pilates studio in Golden Grove has been built with the intention of creating the perfect atmosphere for our community to grow and experience the fullness of all that Pilates has to offer.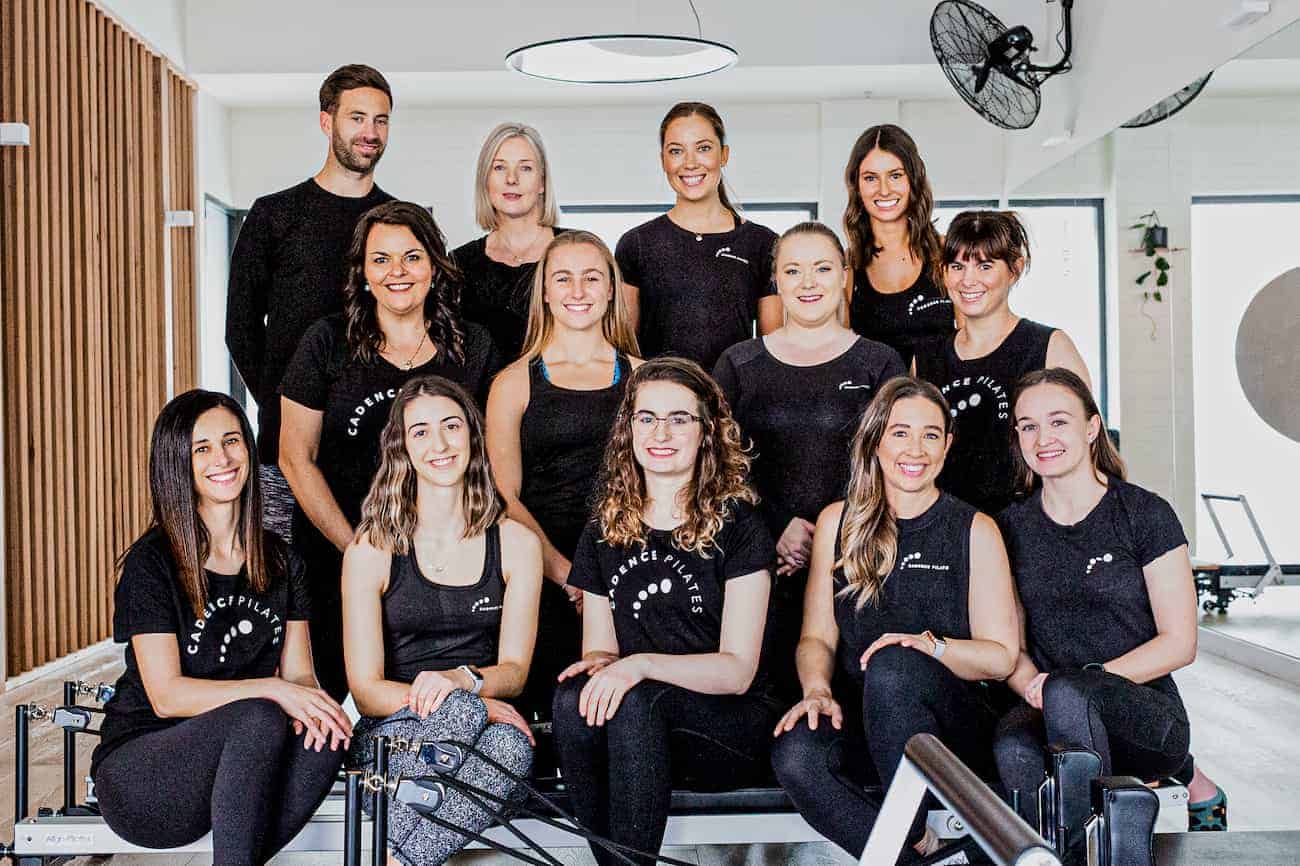 Our Carefully Structured Pilates Classes For Men and Women.
Our Pilates classes have been carefully structured and designed for both men and women, including sports players and professional athletes, such as local swimming teams, local footy & AFL players. If you have any questions regarding our Golden Grove studio or any of our other Pilates studios in Adelaide, we have an extensive list of Frequently Asked Questions ready for you to explore so that you can get the most out of your experience with us.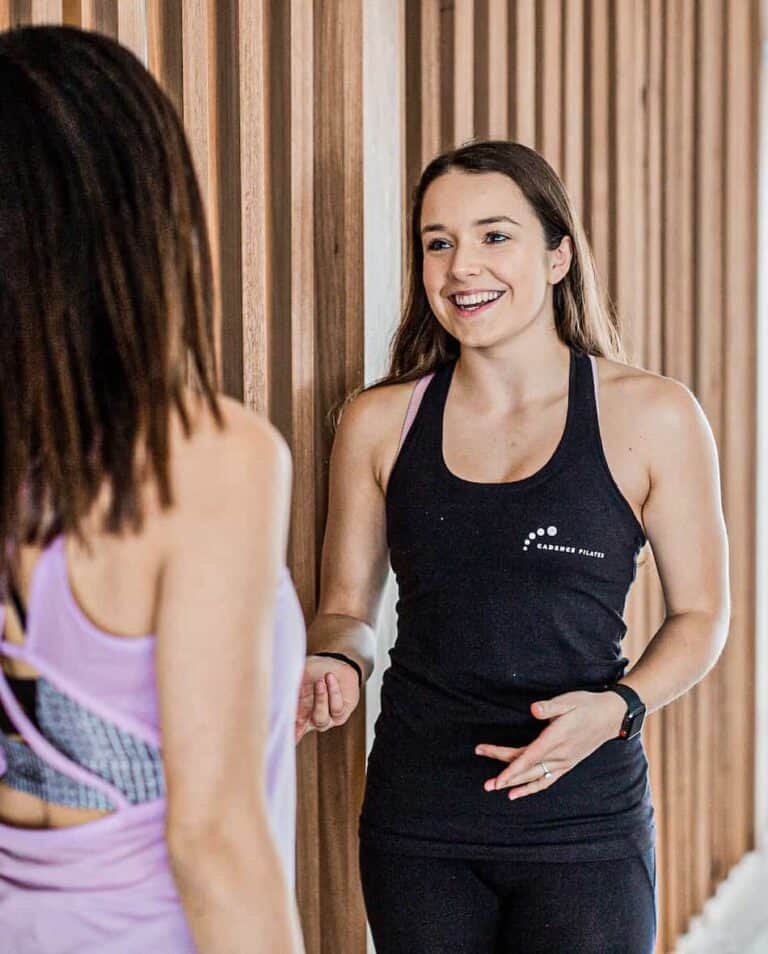 What Better Time Than Now? Join Our First Class Pilates Studio In Golden Grove.
Whether you want bring a friend or make new friends, building strength and mobility through Pilates is best done when you have an environment that's conducive to your personal growth and development. Our extensive range of Pilates classes in Golden Grove provide the benefits of class-based Pilates training and progressive growth models to achieve success.
1:1 INTRO SESSION
Remember, to join one of our Pilates classes you'll need to book a 1:1 Intro Session with one of our Physiotherapists or Certified Pilates instructors.
CADENCE PILATES GOLDEN GROVE
Check Out Our Amazing Intro Offer: 5 Pilates Classes For $55 + Intro Session*!
*T&Cs Apply